DJ Admin management system
The DJ Admin management system is designed to help DJs and their clients manage any event - including mobile discos and wedding receptions.
As A DJ myself I understand what you and your clients need to make the system work for you both.
The system provides DJs with a tool to manage their bookings, reducing the time spent on admin to allow you to focus on DJing.
It offers your clients with a space to plan their function, including requesting the music that they and their guests want to hear during the event.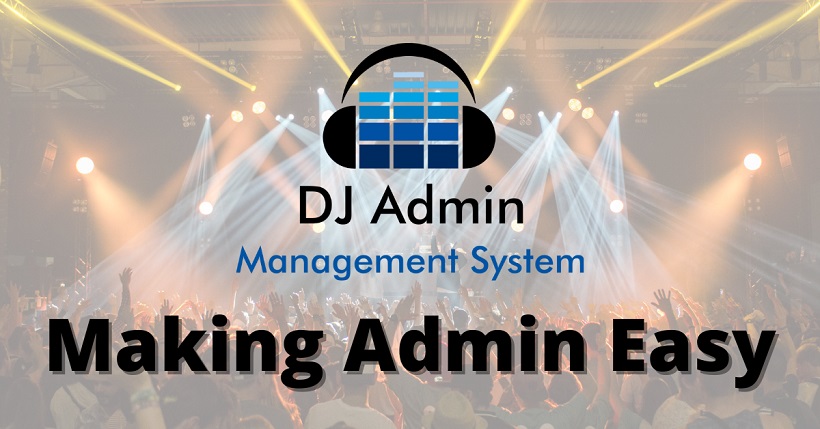 How Does It Work?
It is designed to be as easy to use as possible, for both you and your clients.
The system keeps track of your events, including staff management, accounts and an online music request system for your clients (and their guests) to use.
It is hosted on my servers and can be designed to integrate with your website, matching the look and feel. Depending on your website hosting service, I can even make it appear as if it were your website by using a subdomain, for example planner.yourdomain.com.
Find out more about the features of the DJ Admin management system.
Pricing
I have designed the DJ Admin system to be effective and as low cost as possible; at either £10 per month or £100 per year (if paid annually).
There are no different packages to choose from; the only choice is whether to pay monthly or annually, so you don't need to worry that you're missing out on something. Large scale operators will be charged more, after all if you're sending out 100s of DJs a night it's only fair that you pay more to use a system with so many DJs registered.
I don't believe in hidden charges; there are no setup or exit fees. If you decide to leave at any point you will have the option to export the information on the database into a CSV file (comma separated file) to allow you to import it into applications such as Microsoft Excel.
Current SEDA members receive a 25% discount on the annual fee.
System Availability
The system is independently monitored by SiteUptime.com and has an excellent availability record, as evidenced below:
| Month | Availability | Outages |
| --- | --- | --- |
| July 2022 | 99.93% | 1 (0hrs 30mins) |
| June 2022 | 100% | 0 (0hrs 0mins) |
| May 2022 | 100% | 0 (0hrs 0mins) |
| April 2022 | 100% | 0 (0hrs 0mins) |
| March 2022 | 99.93% | 1 (0hrs 30mins) |
| February 2022 | 100% | 0 (0hrs 0mins) |
Any planned maintenance will be communicated in advance and is usually carried out overnight to minimise any disruption.